A day to be noted in history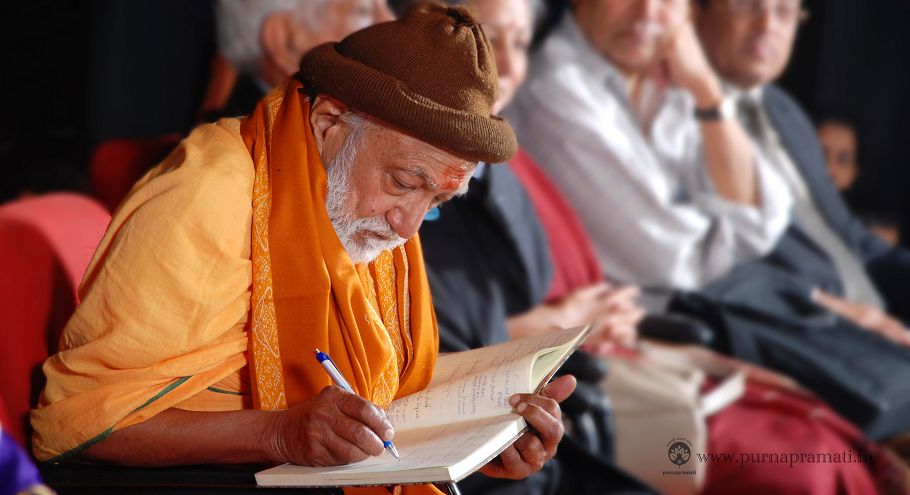 After receiving the last year's Samman, Swamiji left on us a deep impression of Ganga consciousness. We have also been deeply attached to Swamiji and every time we herd of his thought of giving up food for the sake of Ganga mata, our hearts were filled with anxiety. Our anxiety inflated when he started his endless AnashanVrata(fast to death) for the cause of Ganga mata's health on the 13th of June. We have been feeling helpless to support him directly in any way. Some of our team members tried out ways to help him but nothing did work. In this situation we have relied on his own belief which says " In our tradition, when everything fails and we become weak Tapasya and Prarthana are the only ways relied after."  We have been praying for the health of Ganga mata and swamiji as a strict daily routine since the days he left Bangalore and more intensely from 13th June. Our fear of swamiji's illhealth kept on increasing as the number of swamiji's Anashan days kept on incrementing on the school's pin board. All these days, we were soothing our anxiety with the childish hope of Swamiji's recovery. But today the pin board shows 100 and swamiji has decided to give up water too. A slight thought of the 83 year old swamji's condition irks us and fills us with shame. We are visionless. Staying quiet would be our double shame.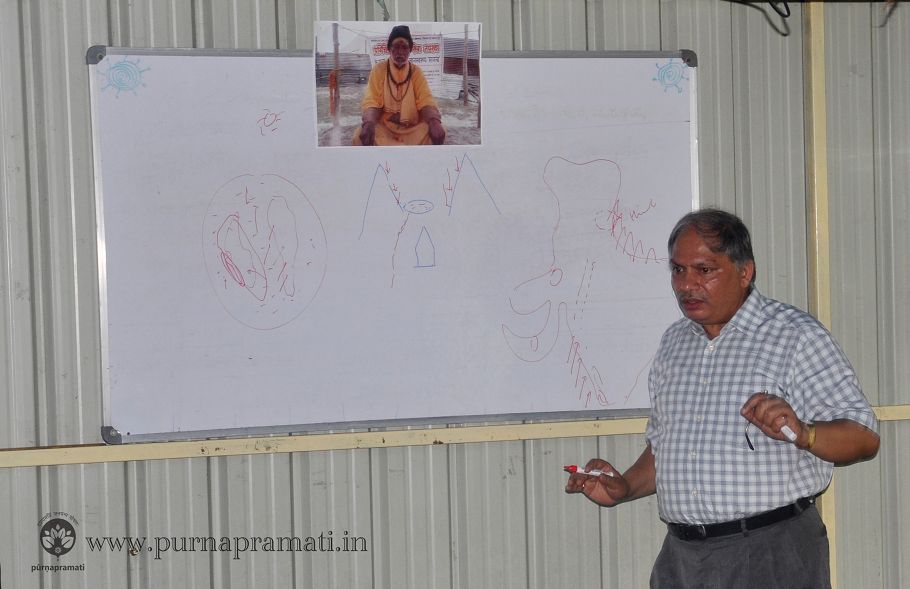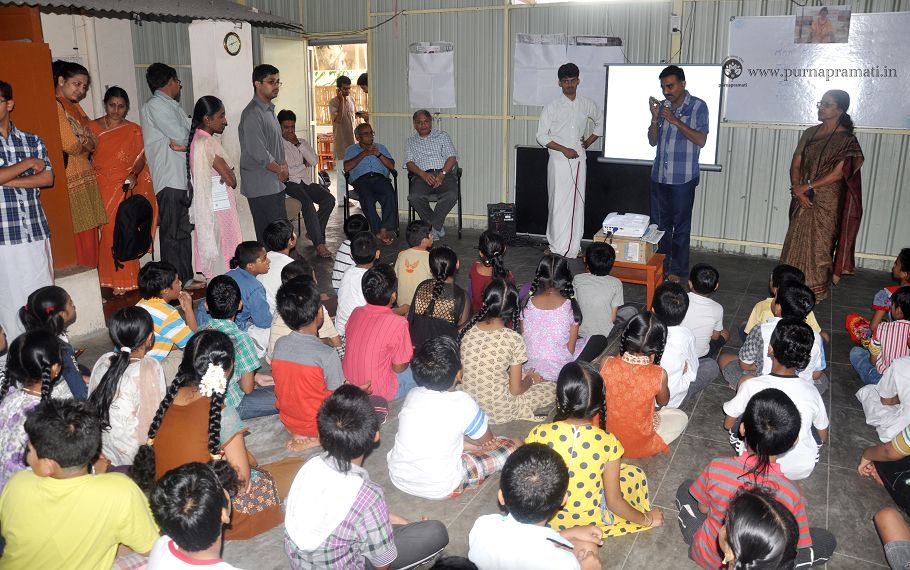 We had an assembly of teachers, team members and children of purnapramati on 21st September. Sri Radhakrishna Bhadti, Sri Lingaraju, Sri D K Sharma, SriNagesh Hegde and Sri Satyanarayanacharya joined us. Poojya pejavara Swamiji, Sri Rajendra Singh and Sri Prahladacharya joined us over the phone.
After our daily prayer and ganga prarthana, Sri Rajendra Singh spoke to the children over the phone. He said "Today is the 100th day of Swamiji's Anashan. But the government just does not care . When the prime minister is not ready to listen to a true tapasvi, I have felt that there is no use in working with him. So I have decided to resign from my post as a member of Ganga basin authority today. " Sri pejavara swamiji expressed his support to Swamiji and gave the praman vachan "GANGA RAKSHA ME ADYA DEEKSHA"  which means  " Right at this moment, I take the oath of protection of Ganga".  After the oath, over the phone, Sri prahladacharya said "Ganga has been the anchor of the Indian tradition. It is believed that Bhagiratha brought Ganga mata with monumental effort. Swamiji is under serious tapasya to preserve the existence of such a river for the future generation.His sacrifice must become an inspiration for us and it will not go waste ."  On behalf of Purnapramati, Srinidhi reported the principles followed by Purnapramati as a step of nature conservation. " On the 37th day of Swamiji's tapasya,  when we met him along with Pejavara Swamiji and Sri Prahladacharya, he said that the flow of Gangaji is not just the result of Bhagiratha's effort. It was the result of the tapsya of two generations prior to Bhagirath. So I do not desire for the immediate fruit of my tapasya. I foresee that the future generation will work for Gangaji. I believe that Purnapramati's children will make the change." he said.  Inspired by swamiji, we have determined on three ways to contribute to the conservation of nature. Adhyayan, Adhyapan and Tapasya. Our Adhyayana involves gathering the maximum possible information about water, forests and all that we buy or consume; where did the item come from? In what way was it manufactured?, etc Adyapana is the propagation of the knowledge gained through Adhyayan to the society thereby creating an awareness in the society and Tapasya involves the implementation of the knowledge gained in our daily life. "  For example, we have stopped presenting mementoes to the guests who visit us and we just thank them with heartfelt regards." He said.  Sharma ji said "I have moved closely with swamiji from past many years. I am inspired by his commitment and style of working. Every activity he has taken up in his life has become complete. But unfortunately he has quit the institutions one after the other where he served. This shows that nowhere in our country there is place for the good. But he never gave up his vision. He has been inspiring and guiding a lot of persons to work for the mother nature. In this kaliyug we cannot expect god incarnating as Ram or Krishna. These are the people in whom we have to see God." " Freedom is not a word exclusive to a country. Plants, rivers, waves, flowers, everything has to have its freedom. A river's freedom is the freedom to flow. Swamiji is under penance for the sake of it. Let us all wish for the fulfilment of his desire" Sri Nagesh Hegde said.
Addressing children, Sri Radhakrishna Bhadti said " According to Darwin's theory, Monkeys lost their tails and became humans because they did not use them. Similarly if we block the rivers with a huge amount of dams as we are doing now, there will be one day when the word river becomes meaningless. A river means something that roars."  Sri Lingaraju congratulated Purnapramati saying " Last year around this time you visited Shivaganga and cleaned  kalyanis and planted trees. The trees have grown up now and the kalyanis are full of water. Youths have been visiting the place, picking out the silt from many lakes since the time you began the trend. Congrats, you set the trend. " We have an instance of the similar situation in the Puranas, which says that the flow of Ganga was once cut. Jahnu rishi won over the support of the devatas through severe tapasya and brought the mother back. Ganga is thus called Jahnavi. For sure, the tapasya of Swamiji will be fruitful." Sri Satyanarayanacharya said.
The prarthana session ended with the song " Jis Des me Ganga behti he".
We do not belong to a place where Gangaji flows physically. But we lose the right to call ourselves Indians once we forget her, a river venerated as mother all over the country from time immemorial.