You might not believe me if I say, May 16th, 2015 was the day my childhood desire to ascend Savandurga was fulfilled. Thanks to Purnapramati.
Thirumale a small village in Magadi district is my mother's hometown. We as kids would visit this place every year during our summer vacations. It is just a few miles away from Savandurga. Every year we would pesture our cousins to take us to Savandurga. But all our pesturing had been futile. As years passed by, and I grew up, my wish to climb Savandurga, had taken a back seat.
May 15th: I was looking forward for this day, along with lot of apprehensions, curiosity and anxiety, as that was the day when the academic year 2015-16 would commence for teachers. Raghuram anna told us that the next day all of us shall have a team outing to Savandurga. Of course, I was elated to hear the long forgotten word 'Savandurga'.
16th May: We were at the base of the hill few mintues prior to the scheduled time. Having pondered over it for years, savored it, dreamt about, but never got the chance or gutts to actually do it, there I was. Just at the glimpse of the hill from the bus window, it seemed like a daunting task. The hill looked really huge. Earlier,  I was under the impression that our climb would be something similar to that of Shivagange, wherein we had the luxury of going past the steps at most of the places. But this one appeared to be totally different.  It was intimidating. As if to add to my misery, my slippers started deceiving me. It wasn't giving me the grip that was required. It was no more reliable. So I thought, climbing barefoot was safer than depending on those slippers.
Initially I did face a few hiccups – found it too steep at places, ran out of breath, got tired quickly, etc. But I did not wanted to get deterred. By the time I had covered one fourth the distance, I got used to it and thus started enjoying the ascend. As I got higher and higher, the view started getting better and better. With the aim of reaching the top within the expected time, I was hardly having any time to stop, look back and appreciate the beauty of nature. I was indeed missing many breath taking views from there.  I desperately needed some time for myself. For this to happen, I had to increase my pace, and so did I. In between my climbs, I was fortunate enough to find time to sit to myself amongst this serene environment. I just loved every bit of the lush green panoramic view. It was mesmerizing!!!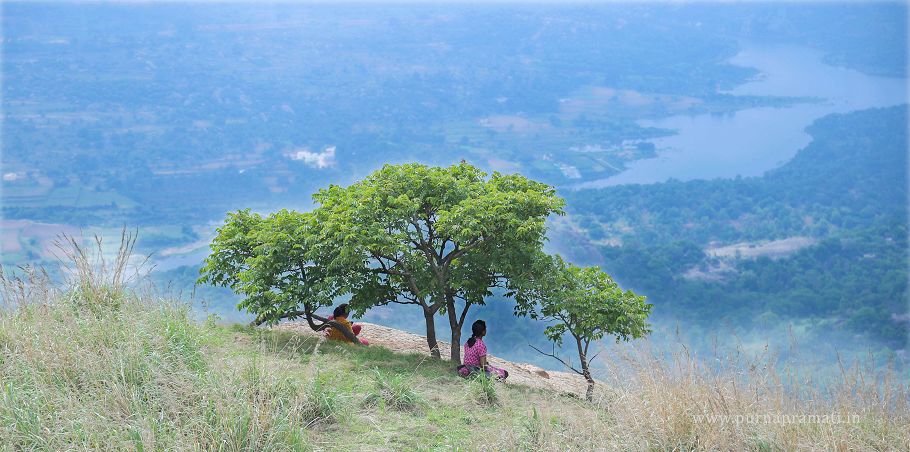 I was amazed to see Sridevi akka ascending the hill with such great ease. She made it look so simple. To me it looked like she was about to conquer the hill.
Though the journey was exhausting (as it was sizzling hot), it was such an accomplishing feeling when I made it to the summit. After a short relaxing session, a few selfies and profile pictures at the top, we were compelled to start our journey down (As said by Ed Viesturs, "Getting to top is optional, but getting down is mandatory") as the dark clouds were gathering.
On our way up the hill, irritated by the scorching heat, Sriramanna was suggesting Raghuram anna to plan our next outing to a place where we can get wet and have a little fun in water.  Little did he know that his prayers would be answered so quickly. Four of us (Roopa, Indu, Balanna and myself) had just started our trek down-hill, we could see the sky getting darker. We could also sense that it had already started raining a few kilometers from us. We knew our descent would become even more challenging if the rocks get wet. We were just hoping, the rains would wait till we get to the base. But the rains had other plans and they had decided to be our companion for the rest of our trek.
Very soon, the clouds broke loose and threatened to derail our plans. But we were determined to get going. Initially we found it a little slippery, but then got accustomed and started enjoying the rains. Within a few minutes, there were waterfalls all around us. Oh! What a sight that was. I wondered if it was the same hill that we ascended a few hours back.  We were completely drenched. As the rains got heavier, we had nothing more to fear. The continuous gentle breeze and the waterfalls added to the allure. I was marveled at this spectacular beauty.
It was a pity that not much of this wet-experience could not be caught on camera due to the rains. I had always longed to witness such a beauty which was beyond human realm of capture. The moment there was water all around, Indu shed off all her inhibitions and started enjoying just like a child. We had to literally drag her out of water, as we were running short of time. Finally the four of us, safely made it to the foot of the hill. As long as we were a part of the adventure, we had not felt the cold at all. The moment the adventure seized at the base, I started shivering (with not a bone left in my body). I couldn't bear the cold, but had nothing to dry myself, as all that I had in my 'water-proof bag' had also witnessed the downpour, along with me.
Thus the memorable trek at Savandurga came to an end. I would say, it was all together an adventurous trek, which was worth the toil.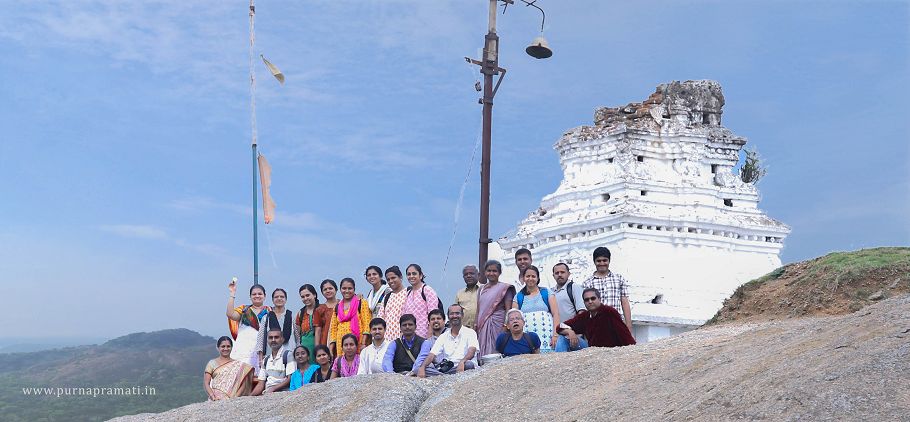 Geetha S.
Teacher
Purnapramati